10 reasons to choose the program

10 reasons to choose the program "Double Degree Czech Republic + Switzerland"
1. Favourable advantages over the others
You will get 2 prestigious diplomas in 3 years
You will learn 3 foreign languages
You will have internship at prestigious institutions in the field of tourism during your studies
You will study in the biggest hospitality education institution in Switzerland
SEG (Swiss Education Group) is in the top 10 hospitality universities in the world
2. Studying a promising field
With a degree in hospitality industry you will be able to find a job anywhere in the world

Travel industry contributes a considerable amount to the incomes of many countries in the world

Hospitality industry is already a promising field of study, but by 2020 a threefold increase of turnover is expected in this area

This specializations opens a wide range of opportunities for you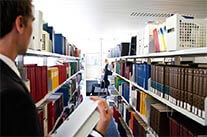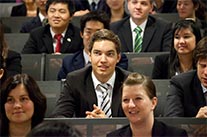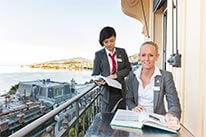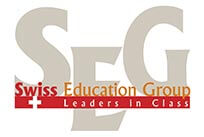 3. Professional connections all over the world
You study in an international atmosphere

During your studies you will find frinds from over 80 different world countries

You will become a member of SEG alumni network, which will help you acquire professional connections all over the world

Regular alumni reunions are held in different parts of the world and provide many opportunities to develop your career

The International Recruitment forum, which is held twice a year will let you meet with the representatives of the world's leading travel industry companies
4. A unique study program in the Czech Republic, which helps you save time
A perfect combination of academic and practical hours

2 diplomas in just 3 years

A paid internship, which you will have in Switzeland or in another country in the world, will increase your chances of finding a better job
5. Modern approach to the study process
While studying you will have the latest technologies at your disposal (iPads, etc.)

Free Internet access on the campuses of all universities

Free online access to the library and study systems of universities

Special attention is paid to personal approach to each student

Classes are taught by professors with rich experience of international teaching and communications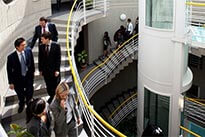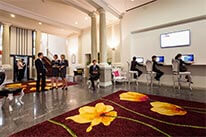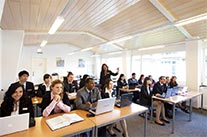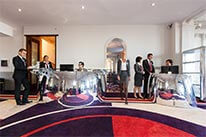 6. Internships in the world's leading companies
Various career and internship opportunities thanks to The International Recruitment Forum

An internship in Switzerland will help you acquire highly valued practical knowledge and skills, which will help you in your future career

The special internship department will help you choose the right direction to move in

A professional counsellor will offer you several optionts in accordance with your strong points and your previous experience. The university will provide you access to the best job offers in the field of hospitality business
7. Unique jobs right after graduation
Career fair, which is attended by the leading travel industry professionals, will help you establish necessary connections for the future development of your career
8. Why study in Prague and Switzerland?
The first 2 years you will study in the Czech Republic in English language

During the studies you will gradually get to know Switzerland and your future studying there

Switzerland is famous for its perfect transport connection between big cities, such as Zurich, Lucerne, Bern, Lausanne and Geneva (it takes about 3 hours by train to get to one city from another)

There are 3 international airports in Switzerland – in Geneva, Zurich and Basel. From the train stations in the airports of Geneva and Zurich you can easily travel to any other city. On the weekends and during holidays you can easily travel all over Europe.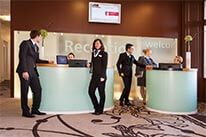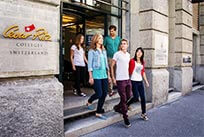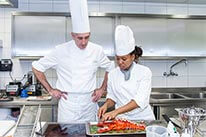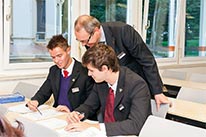 During your studies you will have an opportunity to visit:
Swiss mountains, valleys, lakes and glaciers where various events for students are regularly organized

World-class exhibitions, such as Geneva Motor Show and various festivals which are held annually and can satisfy even the most demanding musical preferences (from pop to classical music)
For winter entertainment there are many high-class ski resorts (Gstaad, Verbier, Zermatt, St. Moritz). Many of them are situated not far from the universities and are within easy reach by public transport. Skiing, sledging, skating, hockey, glacier-climbing, rock-climbing are just a few opportunities that you have in Switzerland.
In summer the mountainous regions are perfect for hiking, picnics and different open-air events. There are many hiking and biking trails here, as well as an opportunity to do mountain biking, rafting, gliding, paragliding, water skiing, golfing, horse riding and much more.
Summer skiing is also a very popular activity here, so the really passionate skiers can practice their favourite sport all year round in Saas Fee and Zermatt.
9. You and your parents have an opportunity to look at the university before you enrol – OPEN HOUSE
SEG organises a 3-day tour of the universities, which are part of the group

You will have a chance to meet current students, professors and look at the campus and study environment

You will get the first-hand information about the studies, accommodation and meals at the university

SEG will provide with free accommodation and meals during the rip. The only thing that you will have to pay for is the flight to Switzerland and back.
10. You are still not sure if this is right for you?
Do not hesitate to contact us with any questions. We will be happy to assist you!

If you have any questions, we will be happy to answer them!